Atlanta Office & Industrial Market: 1Q'2022
May 4, 2022

Atlanta Office & Industrial Market: 1Q'2023
April 25, 2023
Congratulations to our Million Dollar Top Producers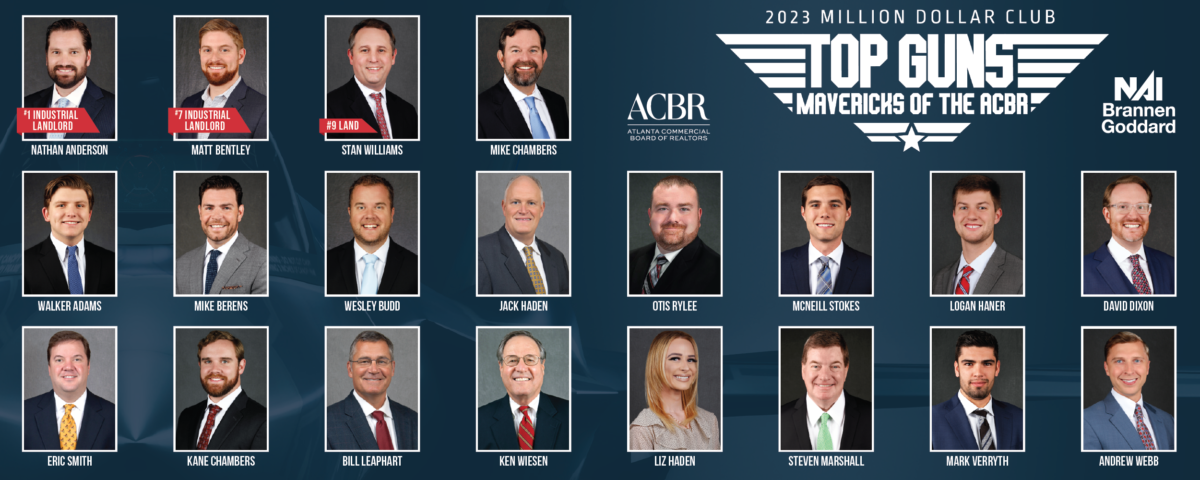 On Thursday, March 23rd, the 65th Million Dollar Club Banquet took place at The Hotel InterContinental Buckhead to honor the 577 Members of the 2023 Million Dollar Club. This year's Club produced over $42+ Billion in commercial real estate transactions.
NAI Brannen Goddard is proud to recognize 20 of our outstanding brokers for being Million Dollar Club Producers.
Nathan Anderson was awarded #1 Top Producer winning the Industrial Landlord category. 
Matt Bentley was awarded #7 Top Producer in the Industrial Landlord category. 
Stan Williams was awarded #9 Top Producer in the Land category. 
Congratulations to all of our talented brokers for a truly great year!
NAI Brannen Goddard brokers recognized as Million Dollar Producers are the following: Nathan Anderson, Matt Bentley, Stan Williams, Mike Chambers, Walker Adams, Mike Berens, Wesley Budd, Jack Haden, Otis Rylee, McNeill Stokes, Logan Haner, David Dixon, Eric Smith, Kane Chambers, Bill Leaphart, Ken Weisen, Liz Haden, Steven Marshall, Mark Verryth, and Andrew Webb.